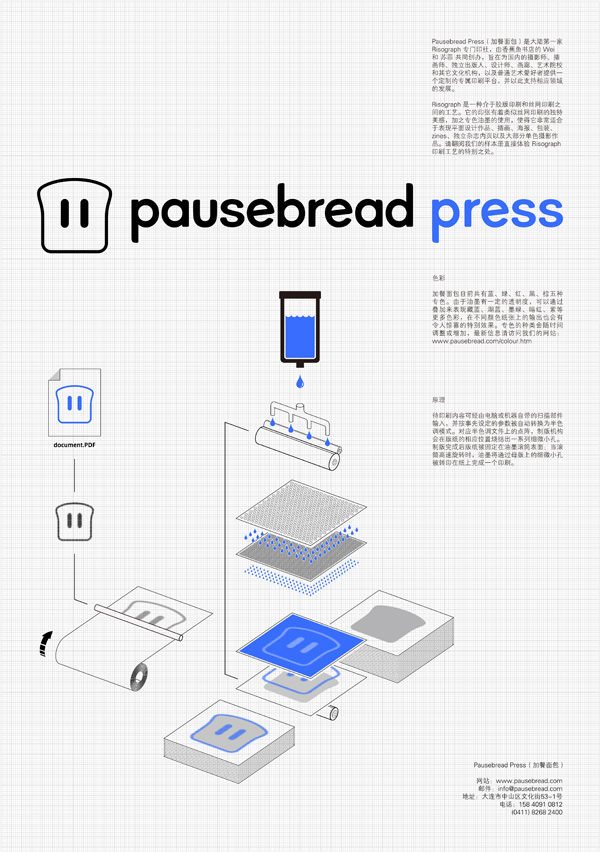 Pausebread Press(加餐面包)是大陆第一家 Risograph 专门印社,由香蕉鱼书店的 Wei 和苏菲共同创办,旨在为国内的摄影师、插画师、独立出版人、设计师、画廊、艺术院校和其它文化机构,以及普通艺术爱好者提供一 个定制的专属印刷平台,并以此支持相应领域的发展。
Risograph是一种介于胶版印刷和丝网印刷之间的工艺。它的印张有着类似丝网印刷的独特美感,加之专色油墨的使用,使得它非常适合 于表现平面设计作品、插画、海报、包装、 zines、独立杂志内页以及大部分单色摄影作品。
Pausebread Press is the first Risograph print shop, founded by Sufei and Wei from Bananafish Books.  Pausebread Press aimes  at helping china's photographer/ illustrator /indie publisher / designer /gallery / art education shcool /cultural institutions and visual fans to print their ideas out, and support the development of the printing platform.
Risograph is a high-speed digital printing system manufactured by the Riso Kagaku Corporation and designed mainly for high-volume photocopying and printing. Increasingly, Risograph machines have been commonly referred to as a RISO Printer-Duplicator, due to their common usage as a network printer as well as a stand-alone duplicator.