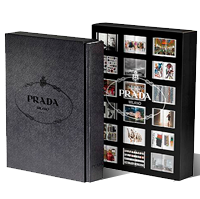 Prada出书了,这本708页的书由Miuccia Prada和Patrizio Bertelli与设计师Michael Rock和Sung Joong Kin的纽约设计公司2×4合作设计。
Michael Rock解释说书可以分为内部和外部两部分,内部包括Prada品牌历史、设计和生产过程,以及从Miuccia入主公司后的所有产品(一共有从1987年开始的3885张小秀场照片)。外部则是Prada在商业和文化界的一些动作,包括在韩国的Transformer展览,Prada在红毯上的作为,甚至还有eBay上卖家对拍卖Prada产品的介绍。书中自然还费了不少笔墨给建筑师Rem Koolhaas,正是他为Prada带来了"epicenter"旗舰店。此外,书里还收录了自1987年开始的所有Prada男装和女装广告图片。
Prada店铺有销售,也可以在Prada官网预览书中内容或订购,售价100欧元。
Prada unveiled the hotly-anticipated The Prada Book, which documents the brand's celebrated history for the last three decades and delves into the label's past and its extensive and diverse projects in fashion, architecture, interior design, film, art, ising, and much more. The book was initially launched at Prada's shop at the Galleria Vittorio Emanuele II in Milan, and today, the American press discovered the 708-page tome at the brand's Soho flagship. Miuccia Prada and Patrizio Bertelli collaborated with Michael Rock and Sung Joong Kim of 2×4 to edit and publish the book.
At present, PRADA is available at Prada stores worldwide and Prada.com.